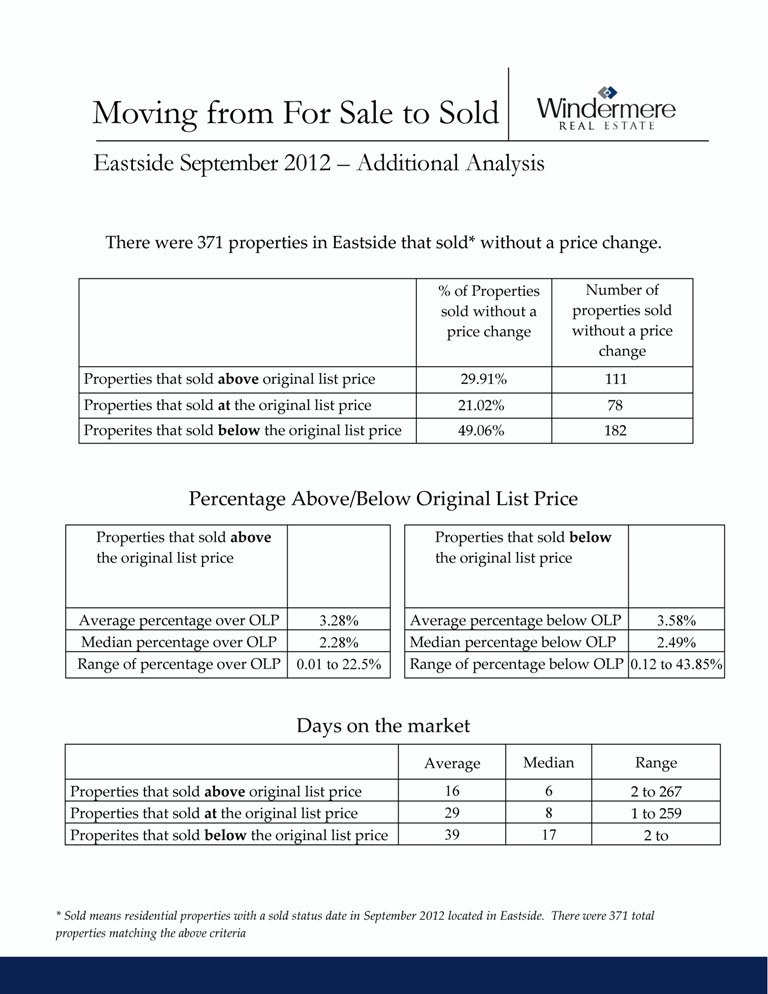 In the third quarter of 2012, almost 30% of the homes that sold in the cities of Bellevue, Redmond, Kirkland, Sammamish, Woodinville, Issaquah sold for over full price! The demand by buyers for homes and the lack of inventory is creating this huge uptick in competition for a home. When more buyers are competing for the same house, the offers often have to be for more than full price to stand out from the competition. Many homes are now getting multiple offers and many, almost a third, are now selling for more than the asking price.
We've recently sold several listings in which the selling price was over $20,000 more than the asking price! In one instance, the home had come on the market only hours before. The buyers didn't want to take the risk that another offer would be written before the seller had time to respond, so they offered over full price. Another home sold within 48 hours. Three buyers made offers for that home.
As you can see in the above chart, the homes that sell for more than full price, sell for about 3% above the asking price, with the range from just a hair over asking price all the way to 22.5% above the asking price!
Twenty-one percent of the homes sold for full price. This means 51% of the homes on the eastside sold for full price or more!
The homes that sold above full price only lasted on the market, on average,16 days. Homes that sold for full price were on the market for about a month.
But what about the other 49%? (Not to be confused with the 47% that was talked about in the election)
Why did half the homes sell for less than full price if the market is so hot? More than likely, one of these reasons was the cause:
Location
Pricing
Condition
Marketing
Competition
You can't change the location or the fact that there is competition for a particular home. But when selling a home, you need to maximize your buyer attraction by pricing your home well, having it in stellar condition, and presenting it well to the buyers through fabulous marketing.
If you have questions about how to have your home be one of the 51% that sells for full price or more, feel free to contact us!