Many homes are selling in a matter of days. So why do you need a Realtor?
In this hot Seattle Eastside real estate market, Realtors help you earn the most money for your home before it goes on the market, when an offer is negotiated, and after the offer is accepted.
Here's how Realtors help you make the most money:
Before you go on the market:
Help you prepare your home for sale- recommending only those things that will help you make more money.
Recommend good contractors who get the job done.
Accurate pricing-the key to success. Having the latest pricing information, so you get the most for your home. In other words, setting a price the day before you go on the market. In today's market, pricing from a week ago may no longer net you the most money for your home.
Stellar marketing with staging, well written descriptions, and fabulous professional photography.
Be available to agents and buyers who have questions and want answers about your home.
Here's what we do when offers come in:
Negotiate the offer(s).
With the lack of inventory, many homes attract more than one buyer at the same time. It can be a delicate balancing act to manage the different agents/buyers. We must maintain a positive and honest working relationship with all buyers so that you, the seller, don't lose anyone during the negotiation phase. The ultimate goal is to secure the best offer for you. It may be the highest price, the best closing date, the best financing and inspection timeline or any combination of these terms.
After the offer is signed:
First and foremost is making sure all the deadlines in the contract are properly met.
The contract needs to be sent to escrow, the lender and the title company.
Earnest money needs to be collected and verified.
Proper receipt of the disclosure form is needed.
Negotiating the inspection. This is a huge part of the transaction process. Buyers expect everything to be perfect and sellers know they are not seling a new home and no home is perfect. It can often be a very emotional time for both parties. Striking the right balance between these expections is important to keeping an offer together.

Working with an appraiser.

With prices going up because of the intense competition, appraisers have to scramble to justify increases in prices in a short period of time. A good Realtor will know about the homes that have sold and can help navigate through this process, etc.
Following the transaction through closing, until you get your check!
Here's just a sample of issues that can come up during the time of the sale to closing:
One party dies, loses their job or gets transferred.
The buyer charges to much on their credit card, increasing their debt and no longer qualifying.
The inspection does not reach a solution satisfactory to both parties and the offer falls apart.
A question comes up on your title report, such as encroachment on your property. This must be resolved before the closing.
The square footage of your home does not match county records, creating an uphappy buyer.
Repair work required by an inspection is not performed properly.
Every home, seller, and buyer is unique. Therefore, every transaction is unique. Some transactions are very smooth and everything goes like clockwork. Much of the time these transactions go smoothly because the Realtor has anticipated any issues and has handled them efficiently to minimize any stress during the transaction. Most sellers don't think about it, but a lot of the work a Realtor does takes place before the sign goes in the yard and after an offer is signed.
Sometimes things happen that are out of anyone's control and a Realtor who is experienced and knowledgeable will be able to guide you from the beginning to the end. It really doesn't matter whether it's a hot market or a slow market. Experience is an invaluable commodity when buying or selling a home.
I love this time of year in Seattle. I was out taking pictures of my yard the other day. Even if it's gray outside, which it often is, the flowers, the plantings and all the trees look just gorgeous. My yard is starting to look its best. Your yard is probably looking great, too. The fresh growth on the plants and trees and the flowers make such a beautiful backdrop for a home this time of year. Even if you don't have a lot of flowers, the fresh green colors still look terrific, so don't overlook your shrubs and trees.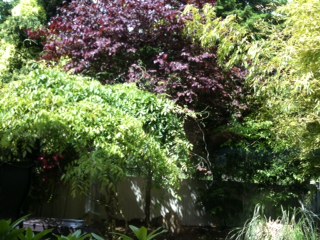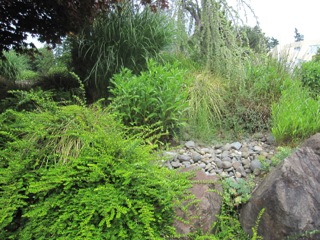 Now think of your yard and how it looks in November. There's no comparison. It's obvious how wonderful everything looks compared to how the exterior of your home and yard look in November.
Don't waste this opportunity. Take time to snap some photos of your home and your yard. You'll have them available whenever you sell your home. In today's world, the online photos of your home are the first thing most buyers see. If the photos are great, there's a far better chance that a buyer will come see your home.
And don't forget to take pictures of your deck. Most of us don't have our patio furniture out in November so now is your chance.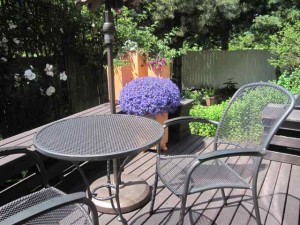 Remember, you could sell some day in the throes of a deep and dark November! I'm sure you'd rather use photos of your yard taken in June than in November. You can always use great shots of your landscaping no matter the time of year you might be selling your home.
Happy picture taking!
There's a saying in real estate, "Plant a Little Green, Make A Lot of Green." (From a CRS newsletter)
Since spring is here, I'll be doing a series about things you can do to dress your home up and get it ready for the party, oops, I mean a home sale.  The series will be called "Make More Money Selling Your Home."
My last post said to get your camera and take photos of your yard while there's spring and summer color. I suggested taking photos so you'd have them available when you decide to sell your home, after all you may need to sell in the depths of winter.  Remember in January your yard looks like it's died a slow death.  Everything looks so bleak and uninviting.
This post is for those of you who have work to do in your yard first, before you take the photos. It's for those of you who must plant a little green, to make some green. It's for those of you who need to do some yard cleanup and painting.  And it's for those of you who have never thought about planting anything before.  You'll need to get that garden equipment out and get to work.  I know you don't want to bother, but you will make more money whenever you sell if you have some great photos of your yard. Street appeal is everything when you want to get people inside your home.
It doesn't have to be complicated.  Keep it simple. Clean up your planting beds or, if you're lucky, pay someone to do that. Then plant some annuals right now and take some photos. Winter pansies and ranuculus work really well and are simple and easy.   Winter pansies cost about $1.49 each. Plant 15 annuals, take photos, total planting time should be 30-45 minutes.  I just did this planting bed below, so I know the cost and the time. You don't even need a green thumb to do this.  I don't have a green thumb.  You don't even have to worry about maintaining the plants on a long term basis (because they are going to die since they are annuals), but you can plant these plants easily for a little money.  If you have more planting beds,  you should plant more flowers.
Don't want to do anything now?  Geraniums and other annuals are coming soon.  So take a little time this spring or summer and think a little green.  It will make you more money when you sell your home.