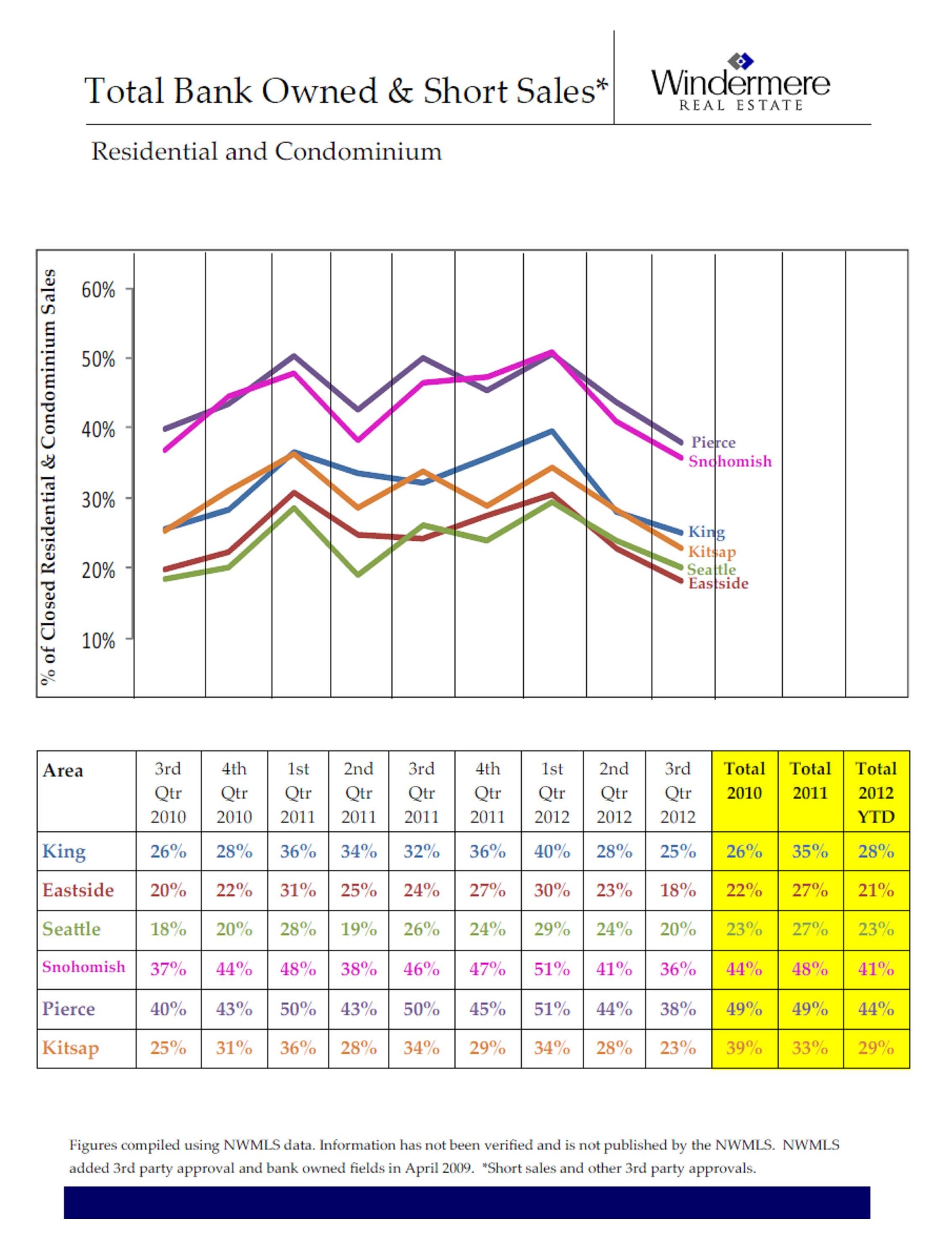 Not only is the Seattle Eastside Real Estate market on a roll, the number of distressed sales (bank owned and short sales) has declined dramatically. In the 3rd quarter, only 18% of the homes sold on the eastside were distressed sales. Seattle and the rest of King County also had numbers that were on the lower side when compared to previous quarters.
Actually, it would be great if more distressed homes came on the market. We need more homes to sell. King County and, subsequently, the eastside are at a record low number of homes for sale. Because of this lack of inventory, distressed sales are needed on the market and, unlike previous years, would not have a detrimental affect on home prices. At this point, it would be a good thing for the market by offering buyers more choices.
So bring those homes for sale on the market. Bring them on!
Posted on November 15, 2012 at 4:40 pm
The Beaupain Team
Category:

Eastside Real Estate, For Buyers, For Sellers, King County Real Estate, King County, WA, Market Statistics, Real Estate, Seattle real estate
Tagged

distressed property sales, Eastside real estate, King County, King County Real Estate, Low inventory of homes, Seattle Eastside real estate
"Distressed Homes Sales Dragging Prices Down" screamed the print version of The Seattle Times, while the online version shouted  "Median Home Price in King County Drops in February, Dragged Down by Bank Repos.
Pretty scary headlines.  Scary headlines certainly attract readers. Distressed home sales, bank repos and short sales, are out there and affecting home values, but in varying degrees depending on which neighborhood is being discussed.    If you read further down in the article:
The percentage of King County single-family homes that fit the "distressed" category in February varied widely by area, according to Windermere's analysis.
By lumping all of King County together, it gives an inaccurate picture of Seattle real estate.  Seattle real estate is far more localized. The neighborhoods of Queen Anne and Capitol Hill are usually the strongest performing areas, while the eastside suburbs of Bellevue, Redmond, Kirkland, and others are doing better than most of King County.  The suburbs of Mercer Island and Medina have few distressed properties for sale.
The chart below gives a picture of the 2010 distressed property sales for all the counties around Seattle.  My focus is on Seattle's eastside neighborhoods, since it's the market where I work. The eastside data is broken out from the rest of King County, because it's usually different than the rest of the county.   The pattern for distressed sales activity can be seen through 2010.  The eastside had less distressed properties for sale than the rest of King County. I expect a similar pattern to continue in 2011, although the numbers may be different.  When the 1st quarter numbers are released, I'll report those numbers.
Irrespective of the distressed sales issue, homes are selling well in some areas.  Prices are less than they were, but there are fewer homes for sale in many neighborhoods.  So the old law of supply and demand is working in these neighborhoods. Near Microsoft in Redmond, there were three home sales that closed this past week.  All the homes sold in less than 8 days.  One was for full price, another for slightly over, and one sold for about 2% less than the asking price. Neighborhoods in Kirkland have a lot less homes for sale than is typical.
Distressed home sales are a part of the picture of Seattle eastside real estate, but they are not the complete picture.  Too bad the screaming headlines didn't balance more of the good news with the bad.
What is happening in your neighborhood?  Are homes selling?  Are there a lot of distressed sales?
Posted on March 4, 2011 at 3:06 pm
The Beaupain Team
Category:

Bellevue Real Estate, Bellevue, WA, For Buyers, For Sellers, King County Real Estate, King County, WA, Market Statistics, Real Estate, Redmond, Seattle, Seattle real estate, Windermere Real Estate
Tagged

Bellevue, Bellevue Real Estate, distressed property sales, Eastside real estate, King County, King County Real Estate, Redmond, Redmond real estate, Seattle, Seattle distressed property sales, Seattle real estate, Windermere Real Estate