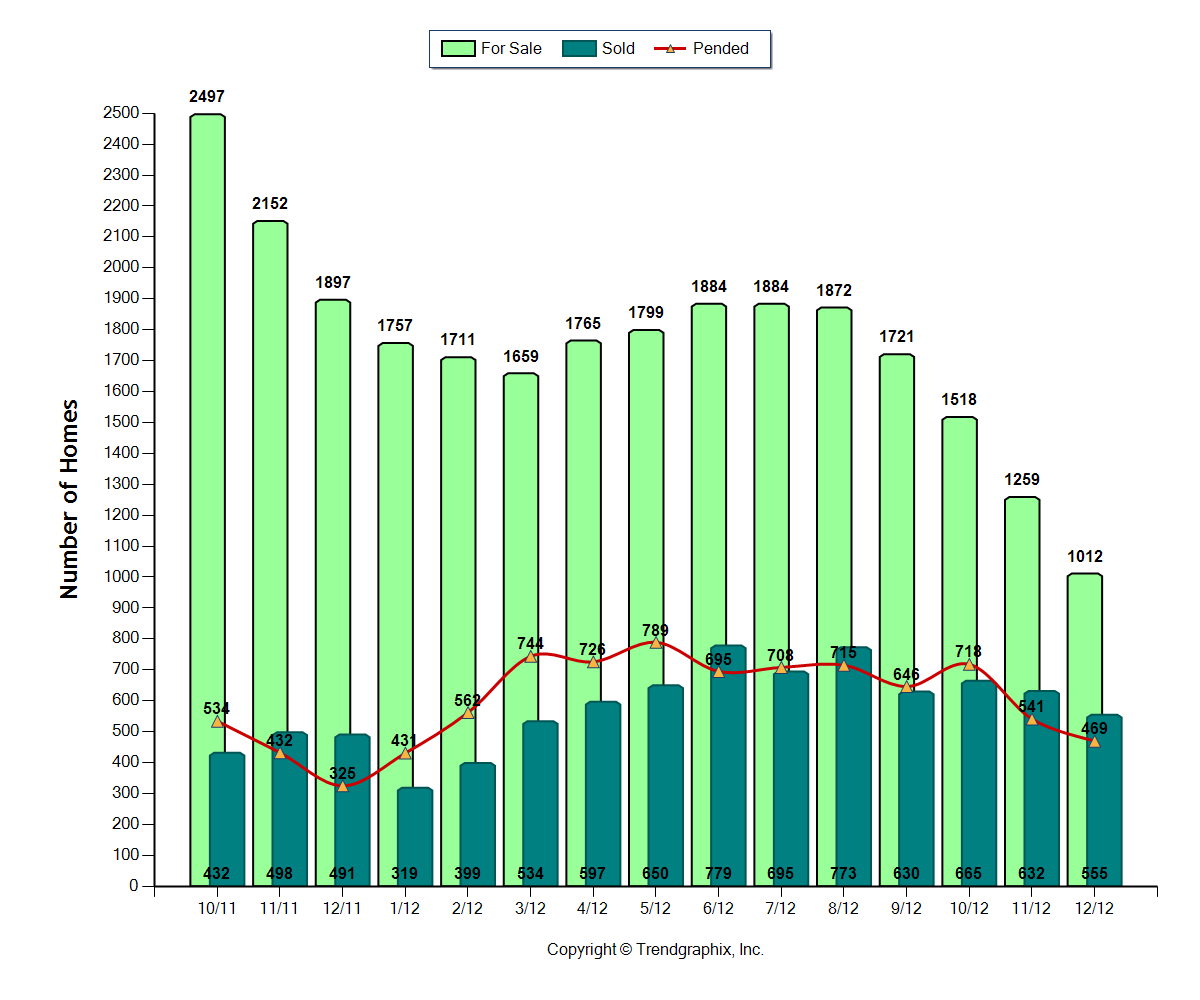 What a year we had in real estate on the Seattle eastside! December real estate was on fire, just like much of 2012! Just over 1000 homes were for sale, about 1/2 as many as were for sale just a year ago. It's been over 15 years since there have been so few homes for sale in Bellevue, Kirkland, Redmond and other eastside cities. In a few eastside neighborhoods, every home for sale sold, but the bottom line is in every area most homes were selling, if they were priced right and showed well.
The area with the most sizzling sales activity was near Microsoft, in Redmond and East Bellevue. There was and is a dearth of listings, so every home that was for sale sold! Over 100% of the available homes sold in December! More than likely a few homes sold before they were on the market, causing the percentage of those sold to top 100 percent.
Our listings have been selling in a matter of days with multiple offers. Typically, homes sold for more than full price because of the intense competition and lack of inventory.
In 2012, 7300 homes sold on Seattle's eastside. Even with fewer homes for sale in 2012 than in 2011, more homes actually sold in 2012. In 2011, 5440 homes sold. In 2012, most of the homes sold were priced between $500-$750,000. The second most popular price range for homes in Eastside neighborhoods was $350-$500,000. Market time was really short by the end of 2012. It would have taken about 2 months to sell every home for sale, which was half the time it would have taken to sell off all of the available inventory in 2011.
Here are the specifics for December 2012 as compared to December, 2011:
46% of the available homes sold this past December, 17% sold in December, 2011.
Homes continued to sell quickly, in 63 days, which is down from 106 days in December, 2011.
In 2011 median pricing in December was $460,000. In 2012, median pricing was $506,000.
The median price of $506,000 listed above reflects the median price of the sales in December. The median price for homes sold in all of 2012 was $525,399, up from $502,784 in 2011. The chart below shows the median pricing for each of the last 5 years. As I've mentioned in previous posts, it makes more sense to look at the trendline (the red line) for the year then to just compare one month to another. It's clear that for the first time in the last 5 years, we are seeing a solid trend with price increases.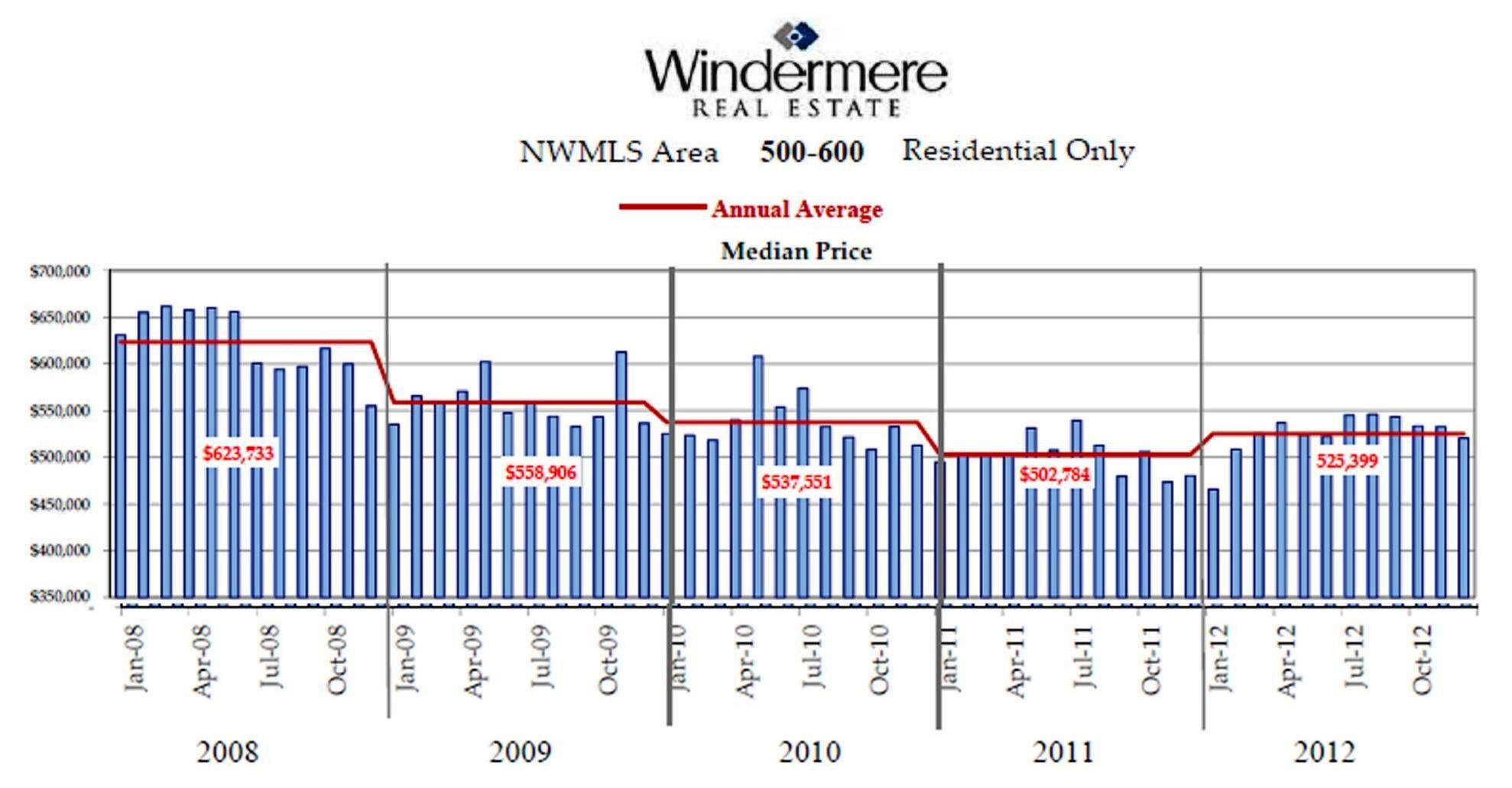 The fabulous activity in the 2012 eastside real estate market should continue into 2013. We've started the year with our listings selling just after the ink is dry on the listing and it's posted on the internet. With supply at an amazing low and demand still very high, there are multiple buyers for homes.
Seattle is on a strong path forward because of our strong economic footing, according to Jed Kolko, the chief economist at Trulia:
On the other hand, metros like Seattle, which came in second on the list of cities with the highest asking-price recovery, are on a smoother path to growth because of their strong economic fundamentals, he said.
If you'd like more information specific to your home, don't hesitate to contact us. Have a wonderful 2013.